About your Guide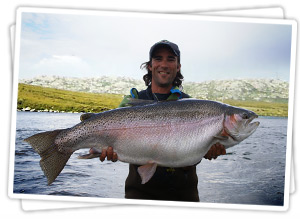 Greg fell in love with fishing at a very young age. His father and grandfather got him hooked, they took him on numerous trips to lakes and oceans around the world…..and a fishing addict was born.
At the age of sixteen he bought his first boat and began exploring different waters on his own. His time on the water helped him develop new techniques, experiment and locate where the fish hold on many different lakes.
Over the years his passion for freshwater and saltwater fishing grew even more. He's fished world wide from Micronesia, Europe, parts of the Mediterranean (including Morocco and Israel), throughout the Caribbean, South America (big game & freshwater), all over North America with his home waters being Ontario.
Ontario is a goldmine in terms of the many great lakes and multi species all within up to a couple of hours from Toronto. Greg's preferred species are: Salmon, Walleye, Musky, Pike, Trout, Large Mouth & Small Mouth, Whitefish, Carp and Panfish to name a few. His multi species ability allows you to choose your species of choice. Through Greg's knowledge and experience he will choose the best lake for that species at that time of year. Allowing you to hopefully catch that big one!
He currently resides in Ontario with his wife and three children, who enjoy the sport with him. Greg currently holds two IGFA records and three of his children have IGFA records too. On Greg's free time, when he's not chartering on the waters he's practicing for up coming tournaments and searching new waters for those honey holes.
Over the past couple years Greg has won in both cash and prizes over $85,000. He has had numerous newspaper articles, photos published in magazines, brochures and flyers, he's been on fishing commercial and is getting his recognition in the fishing community.
Bottom line is Greg loves to fish…..drop him a line to experience an incredible day on the water.
The following is a link to Ontario Out of Doors web feature for "Catching Alewifes"
http://youtu.be/WVL_5mUGrPs
Links

Young man and the sea
Hooked For Life
Who is Greg Amiel
Greg Stand up guy
goFISHn
HOT News from the IGFA
MORE News from the IGFA


Tournament Achievements
TOP Money and Prize Winner of 2008 Salmon Master Derby

2 x All Time Money Earner on BountyFishing.com

2007 Salmon Hunt 4th Place

2008 Salmon Hunt 9th Place

Multi Species Expert has Earned Money in all Species

King of the Lakes 2009 : - St. Catherines Big Fish Fall 2009 1st Place - Whitby Summer 2009 2nd Place
King of the Lakes 2011: - Dreamweaver Big Box 1st Place; St. Catherines spring
Big John St. Catherine's Spring Tournament 1st Place
Suffix Big Box 1st Place; St. Catherines Spring